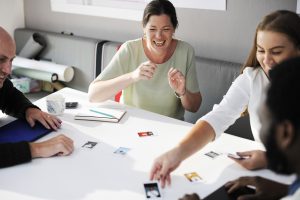 DEADLINE EXTENDED TO JANUARY 19, 2018
The Plymouth County Education Association has a new partnership with Worcester State University.  We now offer courses for graduate credit that can be taken online or within local communities. The courses span a wide range of topics to meet the needs of all educators.  These courses help teachers meet recertification requirements as well as expand their knowledge of topics to enhance their teaching experience.
Courses for teachers-Taught by teachers!
How is this different from the past? The courses are now all three credit graduate level courses. The cost of a three credit course is only $675. This is lower than many other locations. Coursework and homework have been changed to be more teacher friendly as well as fit your demanding schedule. You can take a course to meet recertification requirements, use them for a degree program, or just expand your knowledge.
Come and try our courses!
SPRING Courses (scroll down)  DEADLINE EXTENDED TO JANUARY 19, 2018

SPRING 2018 COURSE RULES Courses are offered only to PCEA members (who must also be members of their local association, MTA, and NEA). PCEA instructors are required to conduct classes for a total of 36 hours.  This form should be returned to the PCEA headquarters, with a check payable to PCEA.  No mailing should go to the college.
Members of the community who are not in the education profession are eligible to take Face to Face courses as long as they become associate members. Associate membership fee is $15.00. Members planning to take a course must include their course payment fee with the registration form. No one will be seated at the first class session unless such payment has been received by PCEA.
PCEA will confirm courses through email when registration forms are received in the office. Students may not change from one course to another once the courses have started. Refunds of the full amount will be made prior to the first class. Half refunds will be made up to the second class. No refunds will be made after the second class. Registration fees will not be returned unless the course is cancelled. Any questions or concerns regarding courses will be referred to the chair of the Professional Development Committee. All Courses are 3 credit courses. You do not need to have a PayPal Account to use PayPal to pay for courses.
---
Mailed items MUST be sent to:
Ellen Brown PCEA, Box 49, 13 Industrial Drive, Mattapoisett, MA, 02739.
(or) The registration form may be faxed to 508-758-6462 or emailed to plycoedas@aol.com
If paying with Pay pal, use the ADD TO CART buttons below. Otherwise, send in the Registration Form with an old-fashioned check. Pay pal will email the office as soon as you have paid. There is no need to send payment confirmation through fax or mail.PCEA is notified as soon as you submit payment to paypal.

Make checks payable to: PCEA, P.O. Box 49, 13 Industrial Drive, Mattapoisett, MA 02739
You do NOT need a PayPal account to use PayPal!
Both the course registration form and payment must be received by the deadline in order for registrations to be complete.
If paying with PayPal use the buttons below.
PAYPAL PAYMENT INSTRUCTIONS
First choose your course:  (To choose and pay for additional courses click the link titled CONTINUE SHOPPING on the PayPal site it will return you to this page as often as you need to in order to add additional courses.) In the comment section or Instructions to sender section, please write what course(s) you are signing up for.
Worcester State Credit $675.
::: When you are done choosing courses, choose PROCEED TO CHECKOUT on the PayPal site. Credit Cards and Checks accepted.In the comment section or Instructions section please write what course(s) you are signing up for.
If Paying by check make checks payable to: PCEA, P.O. Box 49, 13 Industrial Drive, Mattapoisett, MA 02739
DEADLINE  JANUARY 17,  2018

ALL  COURSES ARE 3 CREDITS.
DEADLINE EXTENDED TO JANUARY 19, 2018
PCEA COURSE REGISTRATION Worcester form18
ALL  COURSES ARE 3 CREDITS.
GAY, LESBIAN, BISEXUAL AND TRANSGENDER ISSUES IN K-12 EDUCATION
Examines strategies to increase the visibility of gay, lesbian, bisexual and transgender people in schools through curriculum, student support services, and collaboration with student and community organizations. Participants examine literature and best practices designed to increase awareness among community members and school personnel.
Course Text
Jennings, Kevin, Becoming Visible, Alyson Publications, Los Angeles, ISBN 978-1-55583-254-4
Instructor:  Carl Swanson        Location: online   Dates: January 29-May 4  Grade Levels – All   Cost: $675.
RESPONSE TO INTERVENTION (RTI):Concepts and Applications for Educators will provide educators with knowledge to help them understand RTI concepts and learn to apply them to their daily work with students. Participants will learn core components of RTI, including the multi-tier intervention model, student assessment and data-based decision making, stakeholder involvement and evidenced-based instruction and intervention methods.
Required Text-Sailor, W. (2009). Making RTI Work How Smart Schools are Reforming Education through School wide Response to Intervention. San Francisco, CA: John Wiley & Sons, Inc. Can be purchased on Amazon – http://www.amazon.com/Making-RTI-Work-Response-Intervention/dp/0470193212
Instructor:  Allyson Marsh      Location: online        Dates: ISBN 978-1-55583-254-4
Dates: January 29-May 4  Grade Levels – All   Cost: $675.
UNDERSTANDING AUTISM SPECTRUM DISORDERS is designed to introduce teachers to the diagnosis of Autism Spectrum Disorder and to provide practical strategies for teaching students with autism. Topics of focus will include the DSM-V diagnosis of autism, the possible causes and treatments for autism, the academic strengths and weaknesses of students with autism, and strategies for teaching students with autism in the general education setting. Required Text Fein, D. & Dunn, M.A. (2007). Autism in your Classroom: A General Educator's Guide to Students with Autism Spectrum Disorders. Bethesda, MD: Woodbine House, Inc.  http://www.amazon.com/Autism-Your-Classroom-Educators-Disorders/dp/1890627615 ISBN 978-1-55583-254-4
Instructor:  Allyson Marsh      Location: online        Dates:  January 29-May 4 Grade Levels – All   Cost: $675.
ASSESMENT AND IDENTIFICATION OF LEARNING DISABILITIES This course provides an overview of the 13 special education disability categories and basic strategies and interventions for working with individuals with these disabilities. This class is geared towards regular education teachers who desire a better understanding of disabilities and to increase their knowledge of practices to accommodate different learning styles within the classroom.
Instructor:  Allyson Marsh      Location: online        Dates: January 29-May 4 Grade Levels – All   Cost: $675.
WEAVING THE INTERNET INTO YOUR CURRICULUM
Introduces the educational resources available on the Internet. Using classroom curriculum as a foundation, teachers learn about telecommunications using e-mail, listservs, and newsgroups. The use of audio and graphics, creation of web pages, and how to do research on the World Wide Web are also covered.
Instructor:  Jane Greenberg       Location: online   Dates: January 29-May 4   Grade Levels – All   Cost: $675.
TEACHING AND LEARNING WITH TECHNOLOGY
This course is specifically designed for K-12 classroom teachers, specialists, Librarians, Guidance Counselors, Nurses and all other school personnel.
You will be introduced to various communication tools available on the World Wide Web for global audiences and selected groups: the use of the Microsoft Office Suite to create lessons, skill sheets, newsletters, and more. Teacher/ administrative tools will be created to help you with lesson planning, record keeping and parent communication.
Instructor:  Jane Greenberg          Location: online        Dates: January 29-May 4  Grade Levels – All   Cost: $675.
SOCIAL EMOTIONAL LEARNING
This course examines the relationship between academic success and healthy social and emotional development for middle school students. Participants learn to teach Social and Emotional Learning (SEL) skills including perspective taking, conflict management, self-focusing, self-motivation and to revise or create lessons.
Required Text and supplementary materials: Daniel Goleman, 1995 Emotional Intelligence Tenth Anniversary Edition and DSM IV are required text for the course. Additional text and research in the area of SEL may be used as well to aid with answering the weekly questions. The required texts can be found at Barnes and Nobles and on Amazon.com or borrowed at your local library.
Instructor: Melissa McNeil-Pleasant     Location: online    Dates: January 29-May 4  Grade Levels – Middle School   Cost: $675.
STRATEGIES TO MANAGE STUDENT DISCIPLINE AND VIOLENCE IN K-12 SCHOOLS
This course explores the causes of discipline problems and violence in schools.  This course will provide useful prevention strategies and interventions for teachers in order to address these challenges.  Learn how creating a more respectful school environment reduces the number of violent incidences.  Lastly, this course addresses the importance of staff intervention both in and out of the classroom and discusses various ways of dealing with discipline problems and violence in today's schools.
Instructor:  Keri Clark          Location: online        Dates: January 29-May 4  Grade Levels – All   Cost: $675.
TEACHING AND LEARNING WITH GOOGLE APPLICATIONS
This online course, taught by a Google Certified Trainer, is designed to cover the functionality of all G-Suite applications (formerly known as Google Applications for Education), while going deeper into a select few of the applications to maximize learning.  Engaging students and providing authentic, real-world, lessons while differentiating is possible, and fun, using Google Applications. This online course will allow for creation of these lessons, while educators learn tips and tricks to streamline their own use of these tools. Through collaboration within the course, educators will walk away with a collection of ideas and activities using G-Suite.
Instructor:  Erin Fisher         Location: online        Dates: January 29-May 4   Grade Levels – All   Cost: $675.
INTRODUCTION TO DEAF CULTURE
This course explores the culture of the American Deaf community, focusing on enculturation: language, values, attitudes and norms; social and political organizations; the visual and performing arts; folklore and humor; and diversity of membership. The late 19th Century to modern day Deaf experience will be studied with specific reference to cultural implications of technology, Deaf education and (hearing) societal perspectives. Readings, lectures, discussions and videos emphasize the Deaf as a cultural and linguistic minority group. Competency met: Multicultural Perspective (5.3), Social Phenomenon (5.4), Humanities (6.0), Technical Literacy- Deaf Studies only (8.0).
Instructor:  Dana L. Schlang        Location: online        Dates: January 29-May 4   Grade Levels – All   Cost: $675.
TAKING ADVANTAGE OF THE POWER OF NUMBER TALKS IN K-5 IN CLASSROOMS
This course explores the world of number talks and how this routine can be used to enhance students' number sense, support the Mathematical Practices, as well as increase the use of creative thinking and various computational strategies in math. In order to bring the "power" of number talks into your classroom you must build an environment that encompasses a love for math, encourages creative thinking, and builds students' confidence. The main topics of this course will include a general overview of number talks, how to plan number talks, specific strategies/skills for each grade level (K-5), tools that can be used, and how to incorporate number talks within your classroom instruction & routine.
*We will cover skills/strategies for all grade levels in order to gain a comprehensive understanding, but your projects & responses can focus on your particular grade.
 Instructor:  Mari Gates        Location: online        Dates: January 29-May 4  Grade Levels –k-5  Cost: $675.
Course Textbook:
Parrish, S. (2014). Number talks: Whole number computation.
Sausalito, CA: Math Solutions; ISBN 9781935099659
OR
Parrish, S. (2014). Number talks: Helping children build mental math and computation
strategies. CA: Math Solutions, ISBN 97835099659
(*This is the previous version of the book, but the info is the same as long as you get the "updated with Common Core Connections version". This is shown in an orange triangle in the upper right-hand corner of the cover. Also, the title was updated for the newer version above.)
*Amazon usually has the best price.
Face To Face Courses
MONDAYS
PCEA COURSE REGISTRATION Worcester form18
VIOLENCE IN SOCIETY
This course is about an ever-growing and complex problem that is exacerbated by feelings of helplessness, fear, stress and the lack of effective coping strategies. Using texts and viewing many video documentaries, the topics will include origins of violence, types of violence ranging from passive and subtle forms to the more overtly aggressive forms of physical and sexual abuse, impact of technology, graphic indicators exhibited through handwritings, doodles and drawings. Some of the potential ramifications of chronic exposure to violence and diagnosed as Post Traumatic Stress Disorder and Dissociative Identity Disorder will also be explored. Effective strategies and attitudes for building self-management skills in order to reduce stress levels and ultimately control violent outbursts will be discussed. This course has a topic that is of universal concern and incorporates a strong social and emotional component, so it is applicable to all subjects and grade levels inclusive of nurses, ELL educators, special education, physical education, applied sciences, art, music, and vocational instructors. Book fee
Instructor:  Eileen Page       Location: Marshfield High School;, Marshfield        Dates: January 22-April 30  Supply Fee: $32.00  Grade Levels – All   Cost: $675.
Wednesday
CROSS CULTURAL PERSPECTIVES ON CHILDREN AND ADOLESCENCE
What do we know about the cultures of our students in this immigrant rich society? Through the viewing of several Foreign and a few American films about U.S. subcultures we will learn and expand our understanding of a variety of cultural norms often barely familiar to us. In this course, we will view several films, mostly foreign made, to familiarize ourselves with a variety of cultures from around the world. As we watch the lives of children and teens unfold in environments mostly unfamiliar to us, we will examine the parallels and differences of the universal experience of youth around the world. The focus of the course will be accessing the issues presented in these films for practical inclusion in your daily interactions with your students and capitalizing on your area of expertise to enrich your repertoire of lesson plans and amplify your curricula. We will watch at least one film during each class and engage in intensive analysis and discussion of the content. Essential questions addressed include, "What new information and perspectives have I discovered about other cultures viewing this film?"; "How and in what ways can I integrate what these films teach into my classroom?"; "How can I use these films to enrich and enhance my students' understanding of other cultures?"
Instructor:  Marilyn Berman   Location: West Bridgewater Middle/Senior High School  West Bridgewater   Dates: January 24 – April 25 Grade Levels – All   Cost: $675.
Thursdays
THE CHANGING AMERICAN FAMILY THROUGH FILM
Every classroom teacher faces many challenges today and capturing the attention of our students and motivating them toward excellence is becoming our greatest challenge. Although there are many distractions which draw our students away from focusing on their education yet, as teachers we know the most powerful influence in their lives can be their families. Students search for answers to life's problems with friends, online, and on social networking websites, sometimes with teachers and staff members but often not within their families. Many in society lament the end of the family as we have known it and the deterioration of family units due to divorce, mobility, poverty, crime and substance abuse.
This course will introduce teachers to a variety of films which may be used as powerful tools in the classroom to stimulate discussion of a variety of societal issues regarding the family including: evolving definitions and formulations of the family; political and legal issues regarding immigration; historical and contemporary cultural conflict resulting from immigration, assimilation and generational differences, the economy, the impact of mental illness and addiction on the family and public policy issues which relate to the family. The films we will view come from a variety of genres: domestic commercial feature films, foreign films, and documentary films.
Instructor:  Marilyn Berman   Location: West Bridgewater Middle/Senior High School  West Bridgewater   Dates: January 25 -April 26   Grade Levels – All   Cost: $675.
Copyright © 2017 · Plymouth County Education Association, Inc.